Upcoming 2020-2021 Season
Stay tuned for OSM event announcements for the 2020-2021 season!  For our virtual programming, we are planning some interesting and engaging online interviews and will continue with our Classical Music Watch Parties, Classical Music Trivia  Nights, and more.  We are also starting to plan and coordinate for live-performance re-opening with solo and small ensemble mini-concerts.  We are very excited with the prospect of bringing live musical performances to you again soon!
Virtual OSM: Interview with Principal Clarinetist Gary Bovyer
To begin our 2021 spotlight series, we're very excited to feature OSM's Principal Clarinet, Gary Bovyer, in conversation with Music Director Roger Kalia. Gary will be performing Copland's Clarinet Concerto with the orchestra in an upcoming season. In his conversation with Roger, he'll touch upon a number of topics including his musical background, his experience as an orchestral and studio musician, and his close relationship with the Copland Clarinet Concerto. Gary and Roger will be live in the chat to answer your questions.
To find the interview, head to OSM's Facebook page on Sunday January 24th at 7pm PST (button below). We'll see you there!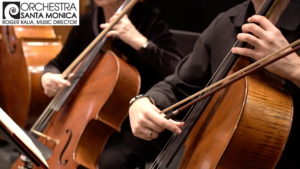 Virtual OSM: Classical Music Watch Parties
Enjoy classical music together with OSM Music Director Roger Kalia, musicologist Christine Wisch, and friends. The complete 'live party experiences' are accessible via Facebook. Each party starts with a brief pre-concert talk, followed by fantastic music, insightful commentary, live chats, questions & answers, and connections through music. Example party subjects have included Dvorak Symphony No. 8, Rimsky-Korsakov's Scheherazade, Bernstein's "Symphonic Dances" from West Side Story, Mahler Symphony No. 5, and a family-geared presentation of Prokofiev's "Peter and the Wolf".

Join Music Director Roger Kalia as he hosts fun and engaging Music Trivia Nights on OSM's Facebook page and YouTube channel. How do you play? Easy! Facebook users join via OSM's Facebook page and anyone can participate via OSM's YouTube Channel. Links to the answer forms and additional instructions will be posted on Facebook and YouTube. Test your musical wits and have a great time. Game on!
www.facebook.com/OrchestraSM.