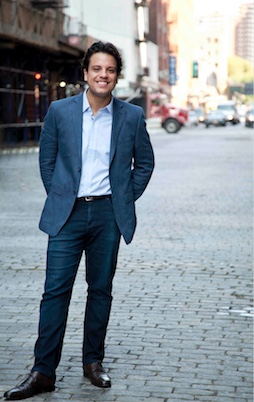 Meet Roger Kalia – OSM's new Music Director
[–From June 2018 Press Release–] After a five-month long search and evaluating many fine candidates, Orchestra Santa Monica (OSM) is proud to introduce Roger Kalia as its new Music Director and Conductor. "I am thrilled to have been named the next Music Director of Orchestra Santa Monica," says Kalia. "I am looking forward to working with its wonderful musicians and Board and leading the orchestra into its next chapter. By performing exciting repertoire, both old and new, and creating unique community collaborations, we are going to reach out to a wide-ranging audience and make our concerts the most welcoming and inviting place for classical music in Santa Monica."
[–
From July 2019 Announcement–
]  
Roger Kalia Signs 3-Year Contract to Serve as OSM's Music Director Through 2021-2022 Season
.  Says Kalia: "My first season with OSM has been a true joy. I have enjoyed making music with our dedicated musicians, and working with our fantastic board of directors. We have such a wonderful orchestra, and I am extremely grateful to the Santa Monica community for your continued love and support. We have an amazing variety of music and guest artists planned for next s
eason, and there is a great deal to look forward to. It is an honor to be your music director."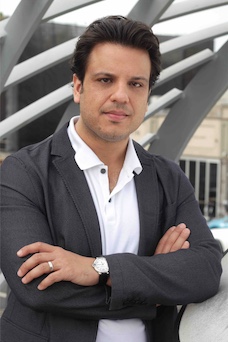 BIO FOR ROGER KALIA
Dynamic and innovative, Indian American conductor Roger Kalia is acclaimed by the press as "one to watch." A respected collaborator with orchestras and artists alike, in May 2019 Kalia was named Music Director of New Hampshire's 96-year-old orchestra, Symphony NH (Symphony New Hampshire). Since July 2018 he has served as Music Director of California's Orchestra Santa Monica, and recently had his contract extended through 2021. In January 2019, Kalia's contract with the 40-year-old Pacific Symphony was extended to August 2020, and he was promoted to Associate Conductor, having served a three-year tenure as the orchestra's Assistant Conductor and Music Director of the Pacific Symphony Youth Orchestra. August 2019 marks Kalia's ninth season as Music Director and co-founder of the celebrated Lake George Music Festival in upstate New York.
Highlights of Kalia's 2019-20 season include two orchestra premieres with Symphony NH: American composer Chris Rogerson's Luminosity and Jacobson / Aghaei's Ascending Bird; a collaboration with pianist / composer Murray Hidary in a unique, multi-sensory concert with Orchestra Santa Monica; the Pacific Symphony's first-ever Dia de los Muertos concert featuring a variety of groups from around the community and a reprise of the successful 2018 benefit concert "From Classical to Rock," featuring John Rzeznik of the Goo Goo Dolls, Nancy Wilson of Heart, singer / television personality Randy Jackson, and Madonna's long-time guitarist Monte Pittman with musicians from the China Philharmonic Orchestra in Beijing, China. Notable guest engagements include returns to the Spokane Symphony and to Poland's Szczecin Philharmonic for subscription series concerts, and debuts with Ohio's Lima Symphony and Indiana's Evansville Philharmonic. Of note in summer 2020 is a four-concert tour of the Czech Republic and Austria with the Pacific Symphony Youth Orchestra featuring performances in Prague's Smetana Hall and Vienna's Musikverein.
Recent guest engagements include the symphony orchestras of Bakersfield, Redlands, Spokane, Symphony NH, and Wheeling, the Camarada Chamber Orchestra, and Poland's Szczecin Philharmonic. Past season highlights include engagements with the National Symphony Orchestra at Washington DC's Kennedy Center for the Performing Arts, the Chicago Sinfonietta at Symphony Hall, the symphony orchestras of Long Beach, Adrian, Great Falls and Owensboro, and the Boise Philharmonic. With the Pacific Symphony and the Pacific Symphony Youth Orchestra, Kalia toured China and also led the Pacific Symphony Youth Orchestra in the Orange County, California premiere of Austin Wintory's Journey Suite, the first-ever Grammy-nominated video game score. With the Young Musicians Foundation (YMF) Debut Orchestra, Kalia led a production of Stravinsky's L'Histoire du Soldat with actors Jack Black and Michael Lerner at the Los Angeles County Museum of Art (LACMA), and gave the Los Angeles orchestral premiere of Michael Giacchino's Star Trek Into Darkness.
A versatile communicator, Kalia has collaborated with a wide range of artists, including singer Shayna Steele, Electronic Dance Music (EDM) duo MAKO, singer/songwriter Randy Newman, Philadelphia Orchestra concertmaster David Kim, violinists Glenn Dicterow, Nikki and Timothy Chooi, percussionist Lisa Pegher, pianists Fei-Fei Dong and Misha Dichter, the B-52s, PROJECT Trio and the Brooklyn-based electronic Indie band Balún.
Equally at home with modern repertoire as he is with popular warhorses, Roger Kalia is a passionate advocate of contemporary music, and has commissioned and/or programmed numerous works by some of today's most exciting living American composers, including Paul Dooley, Brendan Faegre, Narong Prangcharoen, Sarah Snider, Harry Stafylakis, Austin Wintory, Michael Daugherty, and Paul Chihara. Most recently, Kalia led the U.S. premieres of Michael Murray's Pilgrims and King David's Dance with guitarist Sean Shibe and musicians of Pacific Symphony, and has commissioned and led several world premieres at Lake George Music Festival, including Chris Rogerson's Four Meditations for Orchestra.
Kalia is a staunch supporter of music education, and in addition to his responsibilities to the Pacific Symphony Youth Orchestra, he has conducted numerous youth and collegiate orchestras, including the 2018 Missouri All-State Symphony Orchestra, The Colburn Orchestra, California State University Fullerton Symphony Orchestra, Charlotte Symphony Youth Orchestra and the Irvine Seraphim Symphony. He has created family and educational concerts in a variety of concert formats, and has collaborated on the education platform with such renowned artists and ensembles as Cirque de la Symphony, Orange County's Festival Ballet Theater, speed painter Dan Dunn, and the Magic Circle Mime Co. Furthermore, Kalia has also served as an instructor of conducting at USC's Thornton School of Music.
A creator as well as a communicator, in 2011, Kalia and two of his colleagues co-founded the Lake George Music Festival, an original, ground-breaking, two-week nationally-recognized music festival that presents cutting-edge artists and composers performing classical and new music, traditional and experimental concerts and recitals of various sizes, open rehearsals, informational talks and a variety of community outreach programs. As Music Director, Kalia programs and conducts all orchestral and large ensemble concerts, including the popular "Sounds of Our Time," series (which he created and curates) highlighting connections between popular and orchestral music though multimedia concert formats, as well as the festival's Family Concert Series. In 2018, Kalia introduced the Symphony Happy Hour outreach program, which takes place in local breweries and bars.
A native of New York State, Roger Kalia holds degrees from Indiana University, the University of Houston and SUNY Potsdam's Crane School of Music. His primary mentors include David Effron, Arthur Fagen, and Franz Anton Krager. Among his honors and awards are three Solti Foundation U.S. Career Assistance Awards, a 2019 Solti Foundation Conducting Fellowship with Lyric Opera of Chicago, a Project Inclusion Conducting Freeman Fellowship with the Chicago Sinfonietta under Mei-Ann Chen, an American Academy of Conducting fellowship at the Aspen Music Festival with Robert Spano, and Second Prize in the 2011 Memphis Symphony International Conducting Competition, which led to his debut with the orchestra the following season and launched his professional career. Kalia's early posts were with the Young Musicians Foundation (YMF) Debut Orchestra, the Charlotte Symphony and the Columbus Symphony Orchestra (IN). Kalia is married to musicologist / violinist Christine Wisch.
[
Last updated August 2019.

 

Please do not alter without permission
]