Concert Program Notes:  Nov. 2, 2019
"MindTravel and Beyond"
Philip Glass: Symphony No. 3 (1st and 4th movements)
Wojciech Kilar:  Orawa
Murray Hidary: Without for String Orchestra
Murray Hidary: MindTravel featuring Murray Hidary, piano
Roger Kalia: Our opening concert of the season will take place at the historic El Rey Theatre, and will feature the strings of OSM and pianist/composer Murray Hidary.  The concert will open with the music of minimalist composers Philip Glass and Wojciech Kilar.  Glass' Symphony No. 3 and Kilar's Orawa  are cinematic in their sound world with hints of minimalism.  We are thrilled to be sharing the stage with Murray Hidary, one of the most creative voices on today's musical landscape.  We will perform his compositions Without for String Orchestra and MindTravel featuring the evocative, immersive MindTravel experience with Hidary as piano soloist.  Be a part of this unique musical experience!
Murray Hidary, piano
Murray Hidary is a multi-disciplinary artist and tech pioneer. His purpose-driven approach is at the heart of his business success, acclaim as a visual artist and global recognition as a musician. Ever pushing boundaries and guided by a strong desire to help people find their purpose, Murray is now focused on touring his immersive musical experience MindTravel across the globe. Over the past five years, Murray has created over 500 MindTravel experiences for over 100,000 people in cities from Los Angeles to London, Paris to Pittsburgh, Berlin to Boulder; in venues such as Lincoln Center, The Theater at the Ace Hotel, The Metropolitan Museum of Art, The Grace Cathedral, and The National Arts Club
In his performances, Murray's provocative, improvisational, real-time compositions on the piano and visual art projections, inspired by theoretical physics and wisdom traditions, take the audience on a transporting and expansive journey. It is an exploration in translating music into our daily thoughts, words and actions. To carry forward the lessons of music into our lives. To live with harmony, clarity and rhythm.
Learn more about
Murray Hidary
and
MindTravel
at
www.mindtravel.com
.
Concert Program Notes:  March 14, 2020
"Celebration"
Adam Schoenberg: Go
Shostakovich: Symphony No. 9
Brahms: Violin Concerto
Roger Kalia: This program is festive and celebratory in a variety of ways.  Adam Schoenberg, a Grammy nominated composer, composed Go in 2014.  The piece is a high energy, groove oriented work that is inspired by the Kentucky blue landscape and world-renowned horse race tracks and farms.  Shostakovich's Ninth Symphony, originally intended to be a celebration of the Soviet victory over Nazi Germany in World War II, is a playful and vivid musical work with a neoclassical air.  Shostakovich himself considered it "a joyful little piece."  Brahms wrote his first and only violin concerto for his good friend Joseph Joachim, a highly regarded violinist that the composer had known for over twenty years.  Violinist Barbora Kolarova will make her OSM debut in this virtuosic and heartfelt concerto.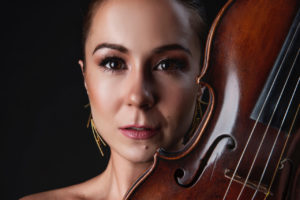 Barbora Kolarova, violin
Barbora Kolářová is recognized as one of the foremost young violinists to emerge from the Czech Republic, having received widespread acclaim for her ability to move audiences with her passionate performance, inherent musicality and comfortable command on stage. Co-founder and Artistic Director/General Manager of the Lake George Music Festival, Barbora is a Manhattan Concert artist, Lincoln Center Stage artist and visiting Co-Principal Second Violin of the Malaysian Philharmonic Orchestra.
Ms. Kolářová's 2019/2020 season highlights include the world premiere of a solo violin composition by GRAMMY Award nominated composer Pascal Le Boeuf, a premiere of David Ludwig's Violin Concerto No.2 "Paganiniana" for solo violin and chamber ensemble as well as world premiere of Sheridan Seyfried's "Capricio for Solo Violin". ​Ms. Kolářová's releases a solo violin album "Imp in Impulse" consisting of works that have not been previously recorded in the fall of 2019.
Barbora Kolářová holds a Bachelor of Music degree from the Curtis Institute of Music and Master of Music degree from the Yale School of Music.  Barbora plays a 1780 Josephus Antonius Laske violin and her performance wardrobe is sponsored and provided by Malaysian designer Alia Bastamam, styled by Shahrezzan Ezani.  For more information on Ms. Kolářová, please visit barborakolarova.com.
Concert Program Notes:  June 7, 2020
"Innovators"
Reena Esmail: "Testament" from Vishwas
Copland:  Clarinet Concerto
Beethoven: Symphony No. 2
Roger Kalia: All three of the composers on our final concert of the season were innovators in their own way.  Reena Esmail is one of the leading composers in this country today.  Her style combines Western classical music with Hindustani music in a seamless and unique fashion.  Copland's Clarinet Concerto, written for the great Benny Goodman, incorporates elements of jazz and South American popular music. OSM's Principal Clarinet, Gary Bovyer, will be our featured soloist. We close the program with Beethoven's witty Second Symphony.  Composed in 1802, the scherzo and finale are filled with Beethovenian musical jokes, and a relentless energy and drive throughout the work.
Gary Bovyer, clarinet
Gary Bovyer is principal clarinetist of the Long Beach Symphony, the Hollywood Bowl Orchestra, the Los Angeles Master Chorale Sinfonia and Orchestra Santa Monica. Mark Swed wrote in the Los Angeles Times; "…the clarinet, exquisitely played by Gary Bovyer, reached such a degree of quiet tenderness that the ending felt more like a mystical breeze lightly touching the skin than sound waves striking the ear." The Long Beach Gazette said of his solo performance with the Long Beach Symphony; "Quiet perfection marked the Mozart Clarinet Concerto as performed by Gary Bovyer…the perfection came from the balance, the musicality, the just-right tempos and the sense of total authority. Bovyer was poised, his sound creamy and luscious…what came through was fabulous Mozart, in all its glory."
Mr. Bovyer is the founder of the Long Beach Symphony's chamber music and architecture series, "Sounds & Spaces" and is on the faculty at Pomona College, Claremont. He was a student of Joe Allard at The Juilliard School and has recently published a book of Mr. Allard's technical studies for the clarinet. He has been an active clarinetist in the Los Angeles recording studios for 30 years.
He lives in Sierra Madre with his wife Michele, a 1st violinist with the LA Philharmonic. In his spare time he enjoys cycling and hiking in the San Gabriel and San Bernardino mountains.